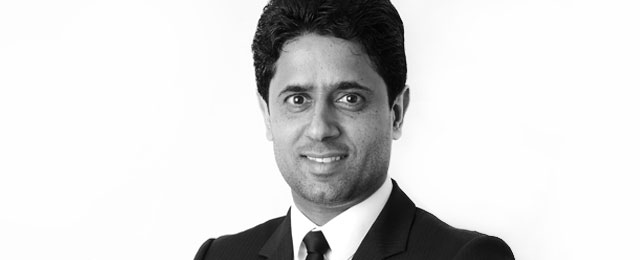 Group Chairman 
---
Nasser Al-Khelaifi is the Group Chairman of beIN MEDIA GROUP, the leading independent sports, entertainment and media group operating in 43 countries around the world.
In forming beIN MEDIA GROUP in 2014, Mr Al-Khelaifi orchestrated the transitioning of Al Jazeera Sport into beIN SPORTS and became the Chairman and Chief Executive Officer of beIN MEDIA GROUP.
In his roles, Nasser Al-Khelaifi has led a rapid growth strategy to create one of the world's most successful sports and entertainment brands. The group provides significant investment in grassroots and professional sports all around the world through its unparalleled sports rights portfolio; while also driving original content creation, production and distribution in the entertainment industry.
Mr Al-Khelaifi has overseen the launch of beIN SPORTS MENA, beIN SPORTS France, beIN SPORTS Americas, beIN SPORTS Asia-Pacific, beIN SPORTS Australia and beIN SPORTS Spain, whilst expanding beIN MENA to include movies, general entertainment, factual and kids content. In 2016, Mr Al-Khelaifi also acquired the Hollywood film studio, Miramax, which holds one of the richest portfolios (and pipelines) of international award winning films. More recently, under Nasser Al-Khelaifi's leadership, beIN MEDIA GROUP acquired the largest Turkish Pay-TV platform Digiturk.
As a result of beIN MEDIA GROUP's growth and international success, Nasser Al-Khelaifi is considered a visionary leader in the media industry.
Nasser's rise to the top of the media industry followed a successful career as a professional tennis player, playing in the Davis Cup for Qatar. Nasser Al-Khelaifi then started his TV career in 2003 as Director of Rights Acquisitions of Al Jazeera Sport, when the channel was first launched. In 2008, he was promoted to General Manager of the Qatari-based sports channel and was made chairman of Qatar Sports Investments.
Alongside Mr Al-Khelaifi's role as Group Chairman of beIN MEDIA GROUP, he is also the President of Paris Saint-Germain (PSG) Football Club, Qatar Sports Investments (QSI), the Qatar Tennis Federation (QTF), the Qatar Squash Foundation (QSF) and vice president of the Asian Tennis Federation for West Asia (ATF).
Mr Al-Khelaifi's years of sport and television experience have led to numerous accolades. In 2016, the French premier footballing magazine, L'Equipe, named him "the most powerful man in French football" and in 2020, he was named the most influential person in football by France Football. In 2019, he was elected by the European Club Association as a delegate at the UEFA Executive Committee, becoming the first leader from Asia to hold a UEFA position.
Beyond media and football, Mr Al-Khelaifi was a former ATP ranked tennis player who played on the international circuit, playing between 1992 and 2002.
---